Why Nobody Trusts the World's Best Currency
It took a decade of gains for the Azeri currency to build up trust, and two devaluations to ruin it
Even after a rally that's made the manat the world's best performer since the start of February, Azerbaijan's Main Street isn't convinced. The little confidence people had left in the Caspian Sea nation's currency after it lost more than half its value in 2015 has been worn away by bouts of panicand wild swings in the exchange rate last year.
"I have no dollars, and even if I did, I wouldn't sell them for manat because it's not a reliable currency," said Tatyana Kryuchkina, who works for a private company as an accountant. "The manat continued to lose value last year even after two devaluations."
The currency's comeback highlights the disconnect between an economy on its way to recovery after its first contraction in two decades and the double-digit inflation and currency turmoil that have left livelihoods in disarray. Adding to the uncertainty is the central bank's monetary policy, which Sberbank CIB calls "somewhat incoherent" for absorbing manat liquidity at deposit auctions while simultaneously dishing out significant funding to buttress lenders.
"Most of the population views current manat appreciation as temporary, attributing it to seasonal factors," Sberbank CIB analysts Alexander Golinsky and Rodion Lomivorotov said in a report. "There are strong expectations that depreciation could resume in the second half of 2017, especially if oil prices decline from current levels."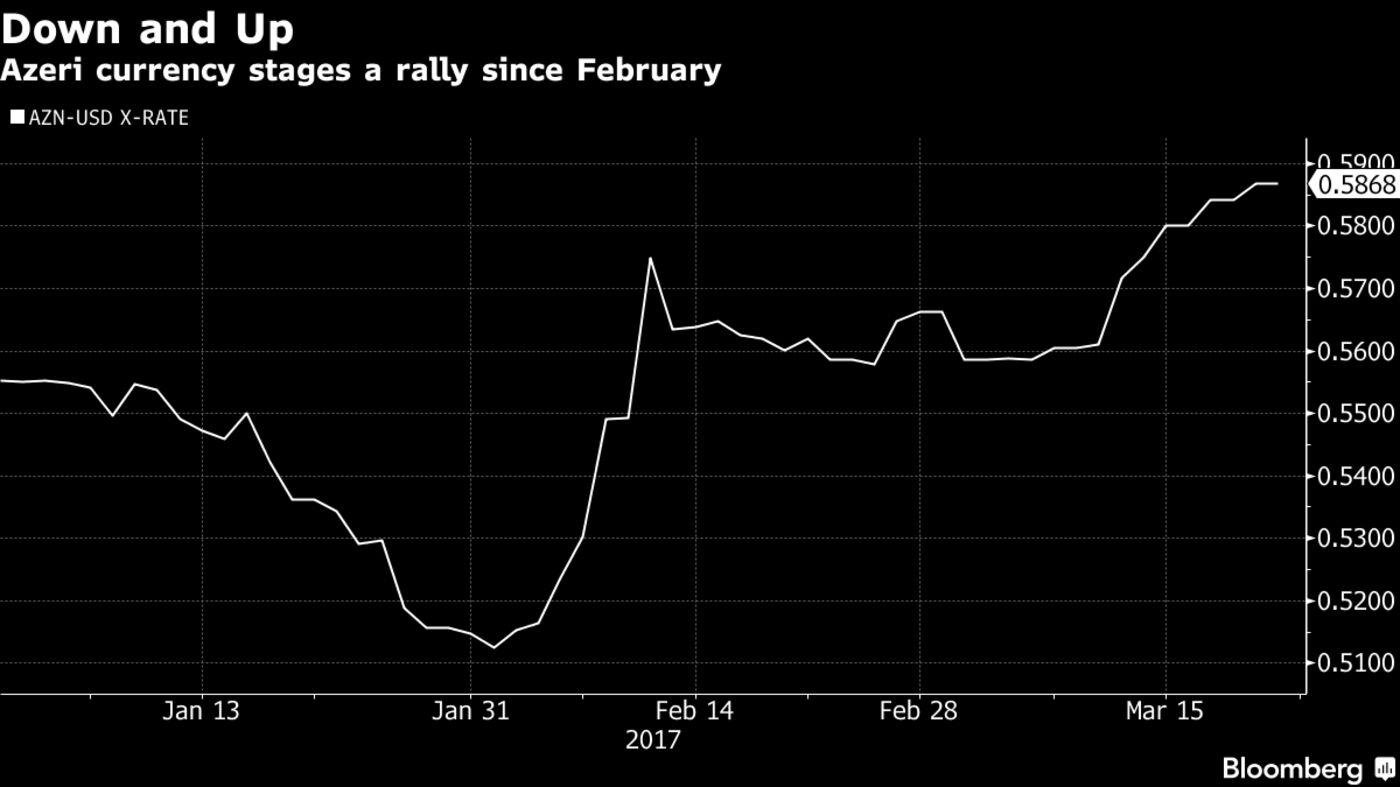 So far, the currency of the third-biggest oil producer in the former Soviet Union has bucked a 10 percent drop in the price of Brent crude since January, strengthening 13 percent in the period and beating gains for Georgia's lari and the Mexican peso, data compiled by Bloomberg show. It traded 1 percent weaker on Wednesday.
Azeris have been voting with their money by keeping most of their savings in foreign currency. The share of dollar deposits rose to 81.3 percent in January from 79.6 percent at the end of last year, according to the latest data available from the central bank.
"For us, a guide to confidence in the currency is deposit dollarization," said Paul Gamble, a senior director at Fitch Ratings. "Deposit dollarization has gone up during the devaluations and remains very high. It's not really coming down that much."
Policy makers burned through more than two-thirds of their reserves in 2015 to support the manat before shifting to a managed floating exchange rate as crude prices collapsed. To relieve pressure on the manat, the central bank in September raised its key interest rate by 5.5 percentage points to 15 percent in an emergency move. The regulator in January removed regulations limiting lenders from buying and selling foreign currency outside a 4 percent band on either side of the official exchange rate.
Click here to read more about Azerbaijan's devaluations
"The manat has more room to recover on the back of de-dollarization and high rates," said Vladimir Osakovskiy, chief economist at Bank of America Corp. n Moscow. "The authorities neither need nor want to rebuild FX reserves and are generally biased towards a stronger currency given the poor state of the local banking sector."
Another factor working in the manat's favor is that Azerbaijan's current account is expected to return to a surplus next year on higher crude prices, according to Fitch's Gamble.
"That should support the manat, but it's really important that the confidence is restored," he said.
For now, trust in the currency is in short supply on the streets of the capital, Baku.
"I don't think the current rate will remain for long," said Fuad Agbabali, a translator. "It's a temporary trend and not a result of the government's economic policies."